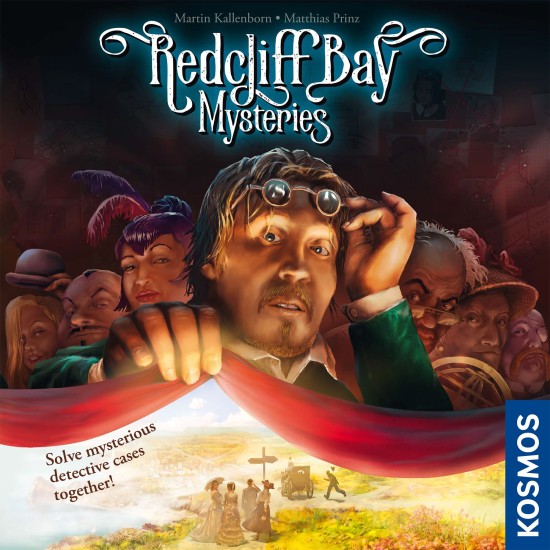 Preorder
Redcliff Bay Mysteries
Stock:

Pre-Order

Reward Points:

40

Model:

BGNM3379

Dimensions:

32.00cm x 32.00cm x 16.00cm
A team is investigating four cases in the dreamy coastal town of Redcliff Bay. It's not that easy at all. When looking for traces, the 1-5 players encounter very idiosyncratic inhabitants with special peculiarities. Suspicious, right?

Round by round, the team decides where to continue investigating this crime thriller at the current time. Together, the team weighs up where the most useful information is currently available or where the most interesting things are going on. An exciting story, simple rules and weird characters - the ideal detective game for families.


Seltsames geht hier vor! Ein Team nimmt im verträumten Küstenort Redcliff Bay die Ermittlungen in vier Fällen auf. Das ist gar nicht so einfach: Bei der Suche nach Spuren treffen die 1-5 Spieler und Spielerinnen nämlich auf sehr eigenwillige Einwohner mit speziellen Eigenheiten. Verdächtig, oder? Runde für Runde entscheidet das Team, an welchem Ort es zur aktuellen Uhrzeit in diesem Krimi weiterermittelt. Gemeinsam wägt das Team ab, wo es gerade wohl die nützlichsten Informationen gibt oder die interessantesten Dinge vor sich gehen. Eine spannende Geschichte, einfache Regeln und schräge Charaktere – das ideale Detektiv-Spiel für Familien.
General
Players
1 - 5 players
Age
12+ years
Time
60 - 60 mins
Designers
Martin Kallenborn, Matthias Prinz
Artists
Martin Hoffmann, Claus Stephan
Mechanism
Cooperative Game, Deduction
Year Published
2021
BGG Link
Click Here