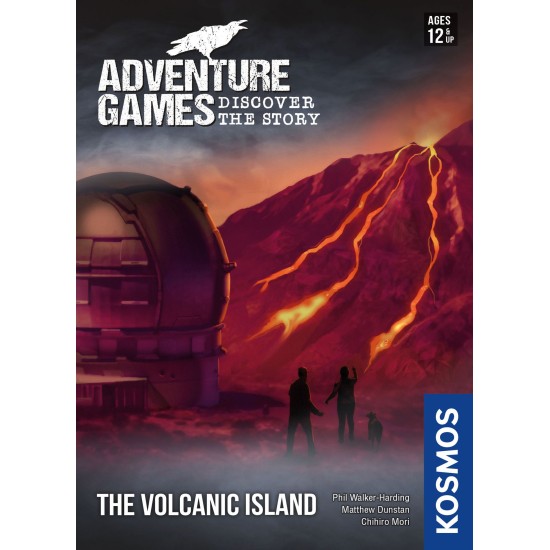 Out of Stock
Adventure Games: The Volcanic Island - Coop
Stock:

Out Of Stock

Reward Points:

21

Model:

BGNM1245

KOSMOS
Enter your email address below and we will notify you as soon as the product is available again.
Explore places, combine items, and experience stories in Adventure Games, a series of co-operative games from German publisher KOSMOS. In each of these titles, players are presented with a mysterious story that they must unravel over the course of play. Working together, players explore common areas, talk to people, look for clues, and combine various items to reveal the secret of the story. Depending on what decisions the players make, the course of history changes and there is no going back!

Unlike the co-operative EXIT: The Game series, titles in this series focus on the telling and discovery of the story with no time pressure. That said, many different paths can be experienced during play, with more than one correct resolution to the story waiting to be discovered. Each title consists of three chapters, each taking about 75 minutes to play. Nothing is destroyed, so the games can be played multiple times.

In The Volcanic Island, you slip into the roles of four students on a volcanic island who face mysterious events. Like a thriller, you need to solve puzzles, make decisions, track traces, and analyze and use objects. You will experience a story together. Gameplay is variable and different in each group.

Admin note: The first edition of the German edition of The Volcanic Island contains an error for which KOSMOS has released a PDF correction that you'll find in the files.


General
Players
1 - 4 players
Age
12+ years
Time
75 - 75 mins
Designers
Matthew Dunstan, Chihiro Mori, Phil Walker-Harding
Artists
Johanna Rupprecht, Javier Salas, Maximilian Schiller, Folko Streese
Mechanism
Unknown
Year Published
2019
Difficulty
2.3/5
Game Type
Competitive
Rating
6.0/10
BGG Link
Click Here